Introducing ZODIAC - Our New Line Of Twelve Scents Inspired By The Stars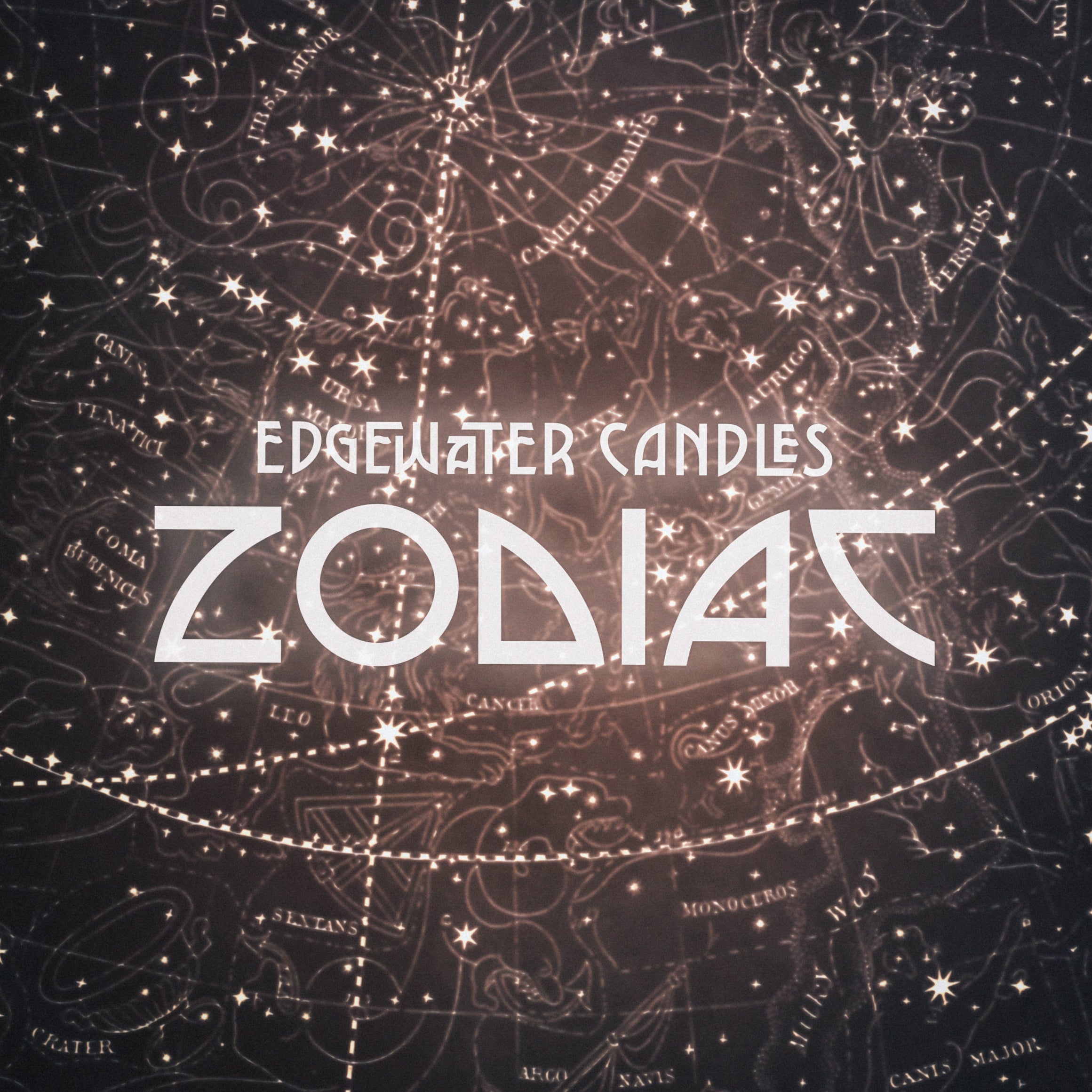 What's your sign?
Find your sign and discover the scent we have created for you! This new collection is inspired by the twelve signs of the Zodiac, the elements of fire, earth, air, and water, and the four seasons. Each scent has four distinct fragrance notes that come together to form a profile uniquely suited for its sign.
We have been developing unique scents for years, and we finally found a fragrance combination that worked for each Zodiac sign. We found a real freedom in exploring new kinds of scents that are esoteric and complex. We had fun working with fragrance notes that are new for us such as eucalyptus, cucumber, coconut, and petrichor.
The scent journey alone was exciting, and we also found great joy in expressing ourselves through the artwork of this collection. We love Prairie Style architecture, and our new "Edgewater Candles" lettering reflects this influence. We are also admirers of Art Deco design, and you can see these motifs throughout the border and central design of the artwork. And lastly, the design of the ZODIAC word itself was shaped by the concept of ancient runes. The distinctive artwork is printed in silver foil on matte black labels, which complement the amber glass beautifully.
The Edgewater Candles ZODIAC Fragrance Note Chart
For photography, we paired the candles with stones and crystals for each sign; including smoky quartz, labradorite, and obsidian.

The first sign of the Zodiac calendar: Aries.
As the first sign of the zodiac, Aries are often bold leaders. This scent is comprised of Sandalwood, Pink Peppercorn, Cedar, and Coconut, a bright bold profile for this fire sign.
Ruled by Mars, the planet of action, Aries is spontaneous with a limitless sense of adventure. Pink Peppercorn, a vibrant fragrance with peppery and rosy tones, match Aries' intensity.
This sunny and unique fragrance has a finish that is spicy, woody and floral. The charging ram reflects their energetic nature. The smooth, warm, and slightly sweet notes of Sandalwood can encourage a calm and meditative state.
Referred to as the tree of life, Coconut trees grow in tropical coastal areas. Its scent is subtle but effective at melting Aries' tension by evoking feelings of being in a relaxing, stress-free oceanside destination.
Fragrance includes essential oils of Eucalyptus and Cedarwood. Pictured with Aquamarine.
We love the individuality of each sign and each scent and we hope you will too!
---
---